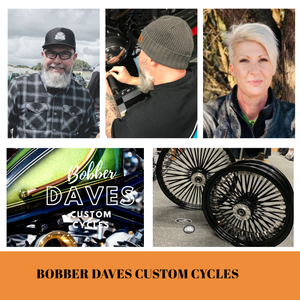 About Us : Welcome to Bobber Daves Custom
Our story began in 2013, with an idea of having a Unique, Cool looking Motorcycle shop to help the individual customise their ride into one that reflected their personality and style.
We also wanted to offer a friendly relaxed spot to meet like-minded riders that also shared a passion for bikes, start their rides, and source a range of parts and apparel from the best brands in the industry.
Dave has a Boilermaker/Fabrication background with specialty stainless skills with over 30+ years of experience and has been able to use this expertise on numerous designs, builds and fabrications along the way.
He definitey has an eye for "Old School Cool" and bringing it into the modern era and can help guide the DIY along with their project.
Julz is very customer focused and very informative on our current and new products available. The Ladies can relate to another Lady Rider pointing them in the right direction. Afterall, it's all about being comfortable, safe & looking cool.
Bobber Daves Custom Cycles is a family owned and operated Small Business that takes pride in supporting other local Businesses, Custom Bike Shows and various local Charity groups.
"Life's Short, Enjoy the Ride"